Our specialty !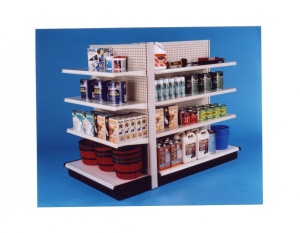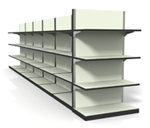 New Era Gondolas provide retailers with a number of options for customizing each store's layout. A wide variety of component parts and accessories can be added to Gondola units. This system features a 1'' on center slotting designed to exceed the capacity of most retailers needs. Aisle, wall and end caps available. Wire fencing & dividers, peg hook displays, dump wire baskets and colored stripes for impulse shopping items are just a few examples of the many display options available to you.
O
ur shelves are strong and versatile with base shelves ranging from 14'' to 24'' and upper shelves from 10'' to 22''. The unit size is available in 36'' or 48'' widths with uprights ranging from 48'' to 96'' high, to meet all your shelving needs. You may also choose from a solid or peg board background.
M
ost parts are compatible with each other major brands.
Gondola shelving is commonly used in many different stores including,
groceries
supermarkets
pharmacy
electronic stores
liquor stores
convenience stores
pet stores
beauty supply shops
variety stores
hardware stores
sporting good stores
discount stores
nail supply shops
pawn shops
etc.
No matter what you sell, we'll configure gondola shelving to meet your store's unique needs-this list is just a small sampling of the many stores we've worked with. Offered in a large array of sizes and shapes, Our gondola shelves can be used straight or on a down slope. Baskets and fences can be used to enhance merchandising.
Feel free to contact us. Our Gondola Shelving Product Specialists will get back to you.